GROW HEALTHIER, NUTRIENT-DENSE FOOD
Better nutrition and tastier fruits, vegetables and herbs.
Clean Harvest Nutrients non-toxic ionized plant supplement containing essential micronutrients.
This positive and negative charge balance both naturally boosts the production of chlorophyll, which enhances photosynthesis and supports the efficient uptake of nutrients. As the chlorophyll content increases, it works to convert the water it receives to natural glucose. This plant glucose aka sugar converts into energy, which feeds the GOOD bugs in the soil and the root system and makes the plants, trees, herbs, vegetables and flowers healthier and less vulnerable to harsh weather conditions, pests and disease.
An energetic and healthy plant yields more flowers, better tasting and more nutrient dense fruits, vegetables and herbs.
A great investment at only $16.99
BUY NOW FOR ONLY $16.99
HIGHER YIELD & NUTRITION
This GARDEN FERTILIZER for your plants gives you more out of everything you have, not only in growth time but in yield and nutrition.
Get more out of your plants, and make them healthier and better looking as well.
BUY NOW
CUSTOMER FEEDBACK
Our customers love their results, and so will you.
"Grew my cilantro better than I could have ever imagined. It was dying, but I applied the spray and it completely revived it and grew it, in 2 days!"

Bryan K.
"The money plant immediately responded very well to the spray, and has grown incredibly quickly once it started getting the nutrients."

John C.
"Very excited to add these nutrients to my garden, which is always in need of natural, chemical-free nourishment. I highly recommend, you'll be amazed and very well taken care of :)."

Lynn A-J.
"Grew an oregano plant for my experiment. It grew almost 2 inches in 2 weeks – almost unheard of from an oregano plant. I called in a horticulture specialist and needless to say she was amazed too. The team definitely loves the nutrients!"

Michigan State University
"I love this product!!! At first I was skeptical because I've used many different gardening products before. I was thoroughly impressed! My veggies were bigger and brighter than they had ever been and my plants were strong and healthy! Regardless if you are a natural or lack a green thumb, I'd highly recommend Healthier Garden!"

Rachel D.
"I suspected that the spray would help the plants only a little, but after one day of use they were thriving! I've never seen plants look so happy :-)."

Courtney K.
MICHIGAN STATE UNIVERSITY TESTED+
Michigan State University took our supplements and used them on their oregano plant. Their oregano grew almost 2 inches in 2 weeks--horticulture specialist approved.
They were extremely impressed on how quickly it grew from before. Needless to say, they loved our nutrient.
BUY NOW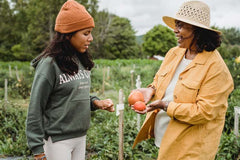 GREEN THUMB PRODUCER
Shorten your harvest cycle by up to 2 to 3 weeks than normal planting.
Earlier Harvest - Earlier Food
This industry-breaking spray makes your garden blues almost non-existent, and makes it effortless for beginners to start on your journey of growing your own food.
If you are struggling with dying plants, Clean Harvest Nutrients is the ultimate plant nutrient and booster to bring plants back to life.
The ultimate code to gardening is here.
BUY NOW-$16.99
Watch your container gardens and raised beds flourish.
Containers and raised gardens, especially in urban and enclosed spaces, too often suffer from poor soil quality. This is the number one factor that puts plants in distress.

Clean Harvest Nutrients helps distressed plants quickly respond back to health, where they can reach their full potential and give their best produce, flowers and joy to their grower.
Grow stronger and deeper root systems.
Stronger and deeper root systems reach untapped nutrients in the soil. Clean Harvest Nutrients is like a shot of goodness for your stimulating the root growth which increases their chance of life.
 Citrus trees, Christmas trees, mums and poinsettias love Clean Harvest Nutrients! But not roses and orchids.
NOT YET AVAILABLE IN STORES
We take pride in providing this break-through technology to offer you the green thumb you have always wanted.
You can rely on us to give your plants the strength and health they need to thrive, whether you be a beginner, expert, or a professional.